To continue with pork recipes, here is the Vietnamese version of the lacked pork, with it's crusty pig skin.
Thanks to this website, I learned to do it the right way http://misstamkitchenette.com/porc-laque-croustillant
Ingredients :
1 pound of Pork belly, with the skin and nice layers
a bit of white vinaigre
1 tablespoon of salt for the sauce, and a a pinch for the skin,
half a tablespoon of Chinese 5 spices melange
1 tablespoon of sugar
1 tablespoon of soy sauce, light if you can.
Preparation :
Clean the pork, keep it in one pice. Prepare a large boiling pot, and put the meat in it for 5 minutes after boiling restarts. Then you put the meat on a cutting board, and dry it with absorbing paper.
In the meantime, mix the salt, 5 spices,  sugar and soy sauce, mix well. If you have a food brush, it will be useful to spread.
Put the meat with the skin up, and apply some vinaigre on it to clean, in particular if there is meatmonger ink marks on it, Then put some salt and rub it.
The next step is to cut the meat with cautious, use a long sharp knife. Put the meat with the skin under. Then cut transversal lines every half a inch, do not cut all the way to the skin, stop less than half a inch from the skin, You want the meat to stay in one piece, but have deep cuts in it to be able to spread the spices.
Flip the meat then spread the spice melange with the brush on the meat side. You can go deep in the cuts. Let it rest in the fridge if you want, at least half an hour for more flavor.
Preheat the oven to 240 degree Celcius / 450 Fahrenheit, without rotating heat. Put the meat with the skin up on a grid, with a pan under to collect the juices and grease. Once ready put the oven at mid height for 40 to 50 minutes. At the end, finish with 3-5 minutes of grill, you want to see the skin pop, but not burn too much,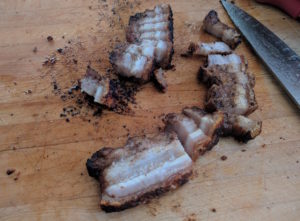 To finish, put on the cutting board, skin under. Finish to cut the lines you did. Put each individual each chunk on the side, with the skin facing you. Then cut in thin slices (quater inch), with a knife movement cutting the skin at the end, to keep it in attached to the meat nicely.
To eat with, I recommend white rice, lots of salad and veggies, and Nuoc Man sauce, or a barbecue sweet sauce.